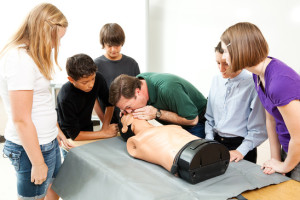 HLTAID001
Provide Cardiopulmonary Resuscitation
Application and Relevance:
This course applies to a wide range of settings where emergencies involving cardiac arrest may occur. It is relevant for people working in education, aged and community care, sport, travel & tourism, hospitality, industry enterprises and other workplace and community settings.
Duration:
2 hours classroom training and assessment (with online pre-work);
Course Content
This course provides the skills and knowledge to be able to handle cardiac emergency situations. It includes:
+ Introduction to first aid principles
+ Assessing a cardiac emergency situation

+ Airway and breathing management
+ Performing chest compressions
+ Administering rescue breaths
+ Resuscitation techniques
+ Using a defibrillator (AED)
Entry Requirements:
Participants must be 14 years or older. There are NO pre-requisites for this course however it is recommended that participants have sufficient literacy, language and numeracy skills to successfully complete the course and the capacity to perform CPR on the floor.
Assessment Methods:
Progressive assessment throughout the course, including demonstration of practical skills and written and oral questions relating to underpinning knowledge.
Award Issued:
All Ages First Aid Training delivers this Nationally Recognised Training in partnership with ALLENS TRAINING RTO #90909 and a Statement of Attainment is issued to all successful participants.
Cost:
HLTAID001 Provide Cardio Pulmonary Resuscitation is a Nationally Accredited Certification.
Total: $65 per student
All Ages First Aid Training delivers all Nationally Recognised Training in Partnership with ALLENS TRAINING RTO #90909